DesignBest – Brazil: Essentially Diverse, Brazilian design at the Permanente
17/04/2019

With a large exhibition held on two floors and over 2000 sqm provided by the prestigious Museo della Permanente (Brera Design District), Brazilian design prepares to commence its Fuorisalone 2019.
For Mario Vilalva, the president of Apex-Brasil, the Brazilian Trade and Investment Promotion Agency that has organized this exhibition in partnership with the Brazilian Consulate General of Milan, this events represents a turning point in the presence of Brazilian design at the Salone del Mobile.

The exhibition is an expression of the uniqueness of Brazilian material culture, which focuses on its origins and transforming power.
Prepare to witness a bewitching experience, as the stated intention of the curator Joice Joppert Leal (founder and executive director of Objeto Brasil) is to stimulate all of your five senses with the exhibition itinerary. The creations on display should not only be looked at, in fact they should additionally be touched, listened to, smelled and "felt" in a well-rounded sensory journey. There are going to be fabrics you are able to touch, lights that alter perspectives and tropical moods thatrecreate the Brazilian forest with different fragrances, scents and temperatures.

The exhibition is subdivided into four distinct areas: "essentially diverse", "essentially innovative", "essentially sustainable" and "essentially creative. In every area, the country's different roots create sensory experiences interconnected with ancestral influences of indigenous, African and European origin.
You have a brief time to visit the exhibition, only during the Salone del Mobile in fact, so the people who want to dive in a world that's "essentially varied, different and diversified too" that we definitely still know very little of, are warned!

Where: Museo della Permanente, 34 via Filippo Turati, Milan – Italy
When: 8 – 14 April 2019
Opening times: Mon: 17.00 – 22.00, Tue – Fri: 11.00 – 22.00, Sat – Sun: 11.00 – 19.00.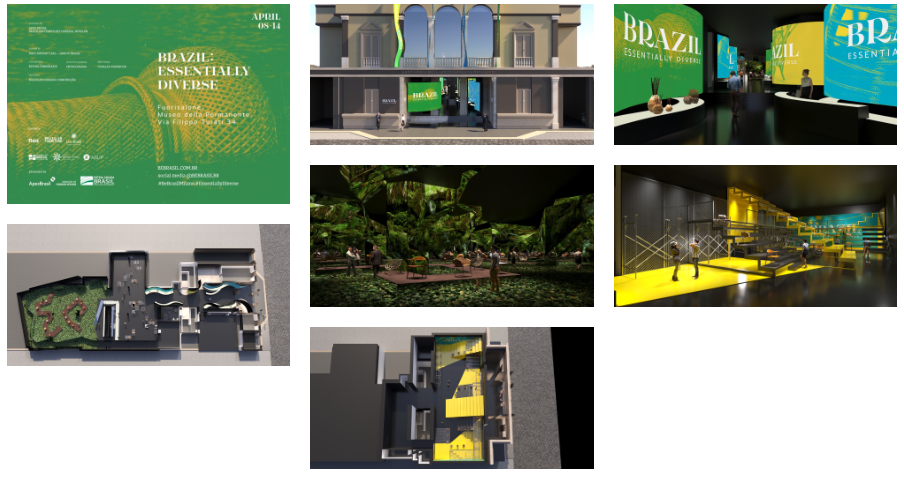 Comentários do facebook